Consultant Surgeons (alphabetical order)
Mr Bishay                Mr Kalkat             Mr Naidu                Mr Steyn
Ms Rogers                              Mr Fallouh
Junior doctors
We have a number of junior doctors who will also be caring for you every day. You may find it surprising that the term 'junior doctor' refers to all qualified doctors in training who are not yet consultants, they may have many years of experience. Specialty trainees (commonly called registrars) are training as specialists in cardiothoracic surgery, Foundation trainees and Core trainees are rotating through different types of surgery before progressing to being a Specialty trainee.
Lung cancer nurse specialists (CNS)
TBC
Advanced clinical practitioners (ACP)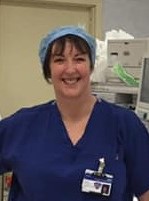 Ms Lisa Kenyon

Ms Jo Cahill
Physiotherapists
Our physiotherapists specialise in looking after patients who have had thoracic surgery. They help with getting you up and about and help you clear mucous off the chest, they feedback your progress to the nurses and doctors. If you have a keyhole operation and are walking around well you may not need help from the physiotherapy team.
Ward nurses
TBC
Preoperative assessment clinic

Healthcare assistants
TBC
Anaesthetists
Anaesthetists are specialist doctors. They will see you before your operation and discuss pain control options as well as details about your general health. In theatre they give a careful balance of medications to send you off to sleep then monitor you closely throughout the operation, keeping you safe and comfortable. If you need an epidural they will do this.
Theatre staff
TBC